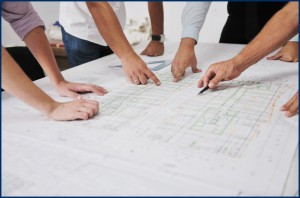 Single-source solutions have always been at the core of Big Sky's effectiveness. Our true design-build service integrates management of the architecture / engineering design and construction processes under one roof, allowing for valuable early, intense collaboration and decision-making, while streamlining the progress of your project.
By Combining These Services, Big Sky Provides:
Enhanced project communication and control;
Cost and scheduling integration, which allows us to tighten lead times, plan for material availability/delivery and efficient construction sequencing.
Expedited permitting
Increased flexibility, creating significant opportunities for creative problem-solving and management of risk.
The Design-Build Process
The design-build approach isn't a new concept, in fact it is the original model for construction of really large and complex projects. Big Sky has always believed in the value of single point responsibility, as it not only minimizes the potential for communication breakdown, but it increases the efficiency and the overall success of the project as well. Additionally it provides you, as the client/owner, the opportunity to focus your efforts on your day-to-day business responsibilities, rather than management of a development project.
From preliminary design and preconstruction to detailed design, construction, final inspections and transition, Big Sky takes you every step of the way:
Preliminary Design – Defining the project requirements with up-front planning by our team of architects, engineers and project managers is the vital first step to the completion of your project. Master planning, site analysis, space planning, conceptual design, and feasibility studies are all handled by our team of experts who align with your vision.
Pre-construction – Establishing a budget, providing hazard and risk analysis, value engineering, construction planning and developing a realistic project completion timeline are all part of our expert pre-construction services.
Detailed Design – Defining the scope of work needed to execute the project is the final and critical step before any dirt is moved. Big Sky seamlessly takes you from permitting and structural design through process layout, risk analysis, and utility flow.
Construction – Construction is all about managing resources. Assembling quality teams with proven, client-driven results is what we do. Our experienced project managers coordinate and oversee every detail to ensure a project meets Big Sky standards of excellence.
To Experience the Big Sky Difference on your Next Project... Click Here to Contact one of our Associates Today!