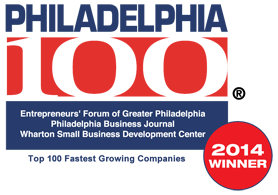 Big Sky Enterprises was named one of 2014 fastest growing, privately held, companies in the region by "Philadelphia 100." The award ceremony for the "Philadelphia 100" took place on October 16, 2014 at The Annenberg Center for the Performing Arts. The Philadelphia 100® is an annual program conducted by the Entrepreneurs' Forum of Greater Philadelphia, Philadelphia Business Journal and Wharton Small Business Development Center.
The Philadelphia 100® has named Big Sky Enterprises as one of the 2014 fastest growing privately held companies in the Greater Philadelphia Region. The Big Sky team was very honored to be recognized for their commercial real estate development, financing procurement and design build solutions and tremendous impact on the economic vitality in the Philadelphia region.
This award was given to 100 innovative, privately held businesses in the Philadelphia region that had demonstrated excellence, passion and contributed greatly to the economic vitality of the Philadelphia community. Additionally, @Phila100 recognized them as one of the 2014 "Philadelphia 100" Winners on Twitter on September 17, 2014. They have competed against various companies, both small and large, and in multiple industries. "The award was extremely rewarding for the Entire Big Sky team as we all have worked hard, to not only be nominated for the Philly 100, but to land at #42," said Michael Regina, CEO and co-founder of Big Sky Enterprises.
One of the Entrepreneur Forum's missions is to support entrepreneurs in the Philadelphia region and deliver the resources that will enhance their business growth. The forum's project "Philadelphia 100" has put Big Sky Enterprises in the spotlight as one of the fastest growing, privately held companies. As the award has been given to the wider range of entrepreneurs, Big Sky's personal and business contribution made its own mark on the economic growth of the Greater Philadelphia Region.
"At Big Sky, we know that legacies aren't built in the big moments. They're built every day, with each decision we make. Through the years our focus continues to remain on putting our clients first, exceeding their expectations, and providing the best value, innovative ideas, and creative solutions without ever compromising on quality. We believe these are the keys to true success and the reason why our clients stay with us. They become a part of the Big Sky family, and we become the team that drives the development and construction end of their vision.
That's what sets us apart," said Michael Regina, CEO and co-founder of Big Sky Enterprises
When it comes to developing company culture, Big Sky is about belief in people, developing a spirit of excellence and aligning with professionals of the highest standards of leadership and service. Big Sky's commitment to give time, intelligence, talents and building long lasting relationships with their clients and community was recognized during the intimate dinner, at The Philadelphia 100® Gala Award Ceremony on October 16, 2014.
To Experience the Big Sky Difference on your Next Project... Click Here to Contact one of our Associates Today!
"It was such a privilege to be a part of the Philadelphia 100 project and share the stage with other Philadelphia 100 winners. None of this would be possible without the great team we have at Big Sky, along with amazing clients, vendor partners, and business associates. Lastly, we couldn't accomplish this without the support of our family and friends over the years. God has truly blessed us beyond our wildest imagination. It placed a challenge on us not to be complacent but to continue to push forward, never stop improving, stay humble and remember where you came from", Mike has added.
Founded in 2003, Big Sky is committed to providing outstanding service, quality craftsmanship and an experience that will allow you to enjoy the development, financing and construction process. While the company's specialty is in churches, healthcare and education, their project history also includes car dealerships, industrial warehouses, daycare centers, retail and office parks.